Well...this would've been posted last night, but shortly after returning from my parents' house last night, we lost all power...until 2:30 this morning. So much for being productive on a Sunday evening. Instead, I read...by headlamp. Yup. Looked like a dork, but got some reading done in the otherwise very, very dark.
Thanks to the power mess, there will be not one, not two, but
three
posts today. Crazy, I know. But there is a lot of blogging to be done. First will be this one (obviously), second is my wrap up post for the
Library Books Read-a-Thon
and then third will be the introductory post for this week's read-a-thon, the
Summer Library Challenge Read-a-Thon
.
This month is turning more into another book month than a Pinterest month, so I've considered making a change. Pinterest Challenge month has been scrapped and I'm thinking instead about creating a year-long challenge for myself based on my Pinterest pins. I think this might be more effective. Somehow, scheduling myself for specific projects just seems a little more obnoxious and unlikely to happen than making myself a big list to attack as I get the whim. I'll mull it over.
I'm also working on my 30 day blogroll cleanup. I started with 207 on the 10th. So far, it looks like at least 39 will be surviving. Come July 10th, I'll say goodbye to at least a small handful.
Now...back to work...let's sum up last week.
Posts I Posted:
Not only a
lot
of posts this week, but also a
lot
of book posts this week. In fact, all of them had to do with reading in one capacity or another. I was seriously starting to think that this is becoming more of a book blog than anything else at this point. (Another reminder that I totally need to get some craft projects going.)
1.
Library Books Read-a-Thon (Goals)
2.
Library Books Read-a-Thon Day 2
3.
Library Books Read-a-Thon Day 3
4.
Library Books Read-a-Thon Day 4
5.
Library Books Read-a-Thon Day 5
6.
Library Books Read-a-Thon Day 6
7.
Now I See You by Nicole C. Kear
8.
The Right Thing by Amy Conner
9.
Lucky Us by Amy Bloom
Books I Read:
I'm really enjoying reading these library books. Even though I picked some of them totally on a whim, everything has been pretty darned good so far. I finished off an ARC book and my Deal Me In Challenge book for the week, but then dove into two of my ten library books.
1.
Before I Go by Colleen Oakley
2.
This Song Will Save Your Life by Leila Sales
3.
Finding Alice by Melody Carlson
4.
The Disreputable History of Frankie Landau-Banks by E. Lockhart
It's a pretty good week when your lowest rated book is 4 out of 5 stars.
Recipes I Tried:
We tried a couple of new things this week, but I didn't stick with the original recipes. I messed with them. Because I could. So...I'll have three new recipes to put up here on the blog over the next little while. First was some French Onion Chicken that I made in the Crock-Pot and converted to a soup. Delicious, but not the best pick for a dinner on a hot summer night. (Sometimes my decisions are questionable.) Second up was a brunch item I made for Father's Day yesterday. A bacon, egg, and cheese biscuit casserole. Holy crap, this one was
awesome
. And lastly, not really a new one. It was a salad that I've made once before, but hasn't made it onto the blog yet. It's a citrus salad. I had to alter it yesterday due to a lack of a couple ingredients, and I like the original recipe I concocted better. That will be the one that goes on the blog.
Projects I Worked On/Completed:
Guess who did some sewing? I know, totally amazing right? I made not one, but two completed projects last week.
First up, a Father's day present for my dad. I modified my typical denim apron pattern and made him a BSU BBQ apron. Collin liked it so much that he now says I have to make him one as well. I took pictures, but they're on my SLR. Since I'm trying to complete this post from the office, we'll have to go without the photo for now. But...I'm sure I'll be posting a tutorial at some point, so it will eventually show up here. Compromises. Sometimes they work.
Second was a sewing request from Miss Marley. At Darian's last band concert (about a month ago), she requested that I make her a cape. I was originally going to make her an Anna cape (you know, from
Frozen
), but I'm all out of hot pink felt. So, I went for a double-sided superhero cape (with sparkles) instead. She apparently likes it. She spent the night at my parents' house last night and my mom informed me that she was already being Supergirl by 10am. However, she has decided that it needs to have an M on it. So I'll be making up a couple fancy "M" emblems this week to stitch on for her this coming weekend.
Challenge Progress:
Things are plodding along. Most of my progress in the way of reading, but completing those couple of sewing projects has now got a few of the crafting items on the go. It's nice to see things turning from black (challenged) to green (in progress) to red (finished). No major accomplishments to speak of this week, but still some progress.
As for this week's
Deal Me In
Book, today I've drawn the Queen of Clubs. That means
Confessions of an Ugly Stepsister by Gregory Maguire
is on deck (pun intended).
Pinterest Pin of the Week:
My favorite this week is a simple one, but something I hadn't really thought of doing and something that will come in handy since I'm dealing with a boy who likes to be super destructive with his clothing. (His dad isn't much better.) It's the
Repair-a-Shirt applique technique from Cheryl at Sew Can Do
.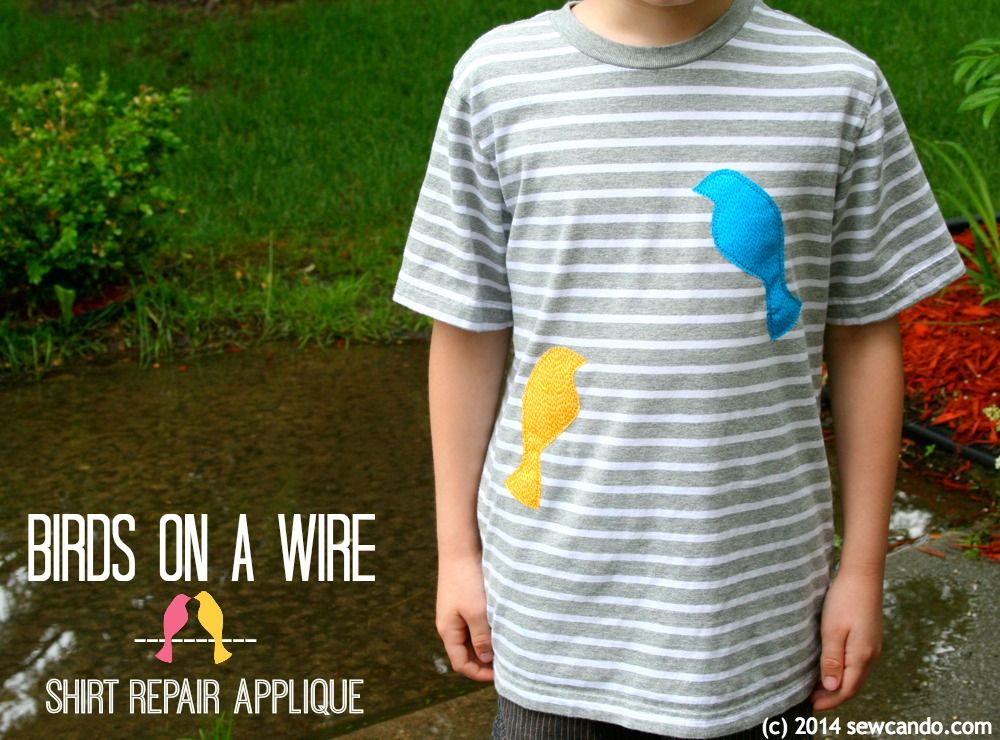 And now it's time for a new week. It will be another week full of books as Darian and I take on (yes...he's participating this time) the Summer Library Challenge Read-a-Thon. We went to the library this morning in preparation.
I'll be back a bit later for some reading updates...