This week, I'm trying out something new. I used to do weekly Summary Sunday posts, but the format just became less appealing over the past year. I felt like I still needed something to wrap up/begin the week. Seeing
Jenni Elyse's Currently
posts made me feel inspired. It was just what I had been looking for.
There are a few versions of this meme floating around the blogosphere. Now I'm taking it on and making it my own. I have a list of "currently" categories that I'll be using. Some weeks, I'll have things to fill them all. Some weeks I won't. We'll see how I like it. We'll see how
you
like it. You'll have to let me know.
Watching :
I've become addicted to YouTube. I have a list of regulars that I follow, but every once in a while, I come upon something that is special and new. This week, it was the result of an assignment for one of my summer classes,
Morgan M. Morgansen's Date with Destiny
. It's cute, witty, and funny. I quite enjoyed it.
Reading :
Sadly, at this particular moment, the majority of my reading is purely academic. I'm reading
a lot
of early American literature in the form of primarily letters and articles written by Americans in the 17th and 18th centuries. I'm not going to lie...most of it is pretty boring.
I'm 20 (yes, TWENTY) books behind on my Goodreads goal for the year, so I'm hoping I can kick that in the butt a little bit with some upcoming read-a-thons. I at very least need to complete 32 books this year so that I have enough to fill my bracket for the 2015 Book of the Year Challenge in January.
Listening :
I have run into a bit of a road block. I purchased a new monitor for my office so that I could replace a broken one in another location. It's a long story, but basically the one I needed to replace had to be a specific size and it was easier to just give that location my old monitor and buy myself a new one. I got a great deal on the new one, but it sadly has no speakers. That has meant no Spotify for the past couple of weeks. I'm hoping to rectify that in the next few days.
In the meantime, I've been making due with getting my music fix on my commute. At this particular moment, I'm really enjoying:
Young and Unafraid by The Moth & The Flame
and
Tear in my Heart by Twenty-One Pilots
Learning :
I'm smack dab in the middle of a 7-week condensed summer schedule. I'm taking two fully online courses: Early American Literature and Introduction to Linguistics. They're both very intense courses and they're taking up a
ton
of time. I would guess that, on average, I do about thirty hours of work on them each week. Basically, if I'm not at work, I'm doing homework. It's insane.
Making :
I've found myself in the midst of a creative slump. Part of it is a complete lack of time and energy. Part of it is the fact that our air conditioning isn't working and my upstairs sewing/crafting room is hot as Hades. If I'm not up there working and finished before 9am, there's no surviving it. It's a sweltering pit. So...crafting has taken a back seat for the moment. I'm sure the craft bug will bite again soon, but in the meantime, nada is happening on the fabrication front.
Thinking :
Honestly...I've been thinking that I'm completely crazy for going back to school. There's been a few times where I've questioned whether I really want to keep going with it. It's easy to try and tell myself "Well, you wanted to take some college courses again and you finished out a full semester. That's good enough." But really it's not good enough. I need to keep pushing myself and make this happen. I hate being a quitter.
Feeling :
The balance of the schedule between work, home, school, and fun has totally got me feeling overwhelmed...and exhausted. I'm pretty frustrated with the fact that I spent my summer vacation sick in bed and I'm totally bummed that I didn't get to go out of town...because that was my one chance this summer. Basically, I'm just feeling a little sorry for myself at the moment. Luckily, I might have the chance to go out of town for a few days in September, so I'm just trying to keep optimistic that my time will come.
Wanting / Needing :
There's not a lot of wants on my list these days. I'm pretty content with most of what I have. It doesn't hurt that I went ahead and bought myself a couple of things on Amazon last week to curb some frustration.
I desperately needed a new Nook cord (mine was held together with electrical tape, hopes, and dreams). It showed up yesterday. I'm super excited about that.
I also got myself a surge protector to plug into the outlet by my bedside table. I now have enough outlets to plug in my iPhone/iPad charger, my lamp, my laptop, and my Nook all at the same time, with room to spare. It's such luxury.
Loving :
Right now, I'm loving that Collin is back home. He was gone for the week on a business trip, so having him home this weekend has been great. It's been nice to spend some time relaxing together. Plus, it's always nice to have someone to share the day-to-day chores with. I like being able to be a little bit lazy.
Planning :
This week, the
High Summer Read-a-Thon
(hosted by Seasons of Reading) is on the agenda. I work Monday - Thursday afternoon, so my participation won't really start until then, but I'm going to try and get some real (non-Academic) reading in this week. I'm extremely excited. Of course, that all hinges on me getting my schoolwork done before then, so I'd better hop to it.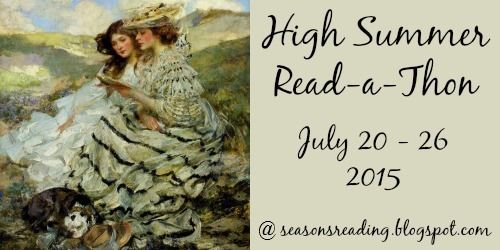 Darian is at his mom's house for a few days, but he's having me pick him up on Thursday afternoon so that he can join in. I'm really looking forward to being able to hang out with him and read for a few days. I'm glad that he's still into doing this kind of thing with me once in a while.
And now...it's back to homework. I have some reading to get in before I head to bed. Let me know what you think about having a weekly "Currently" post around here. I'm also open to any suggestions. Have a great week!